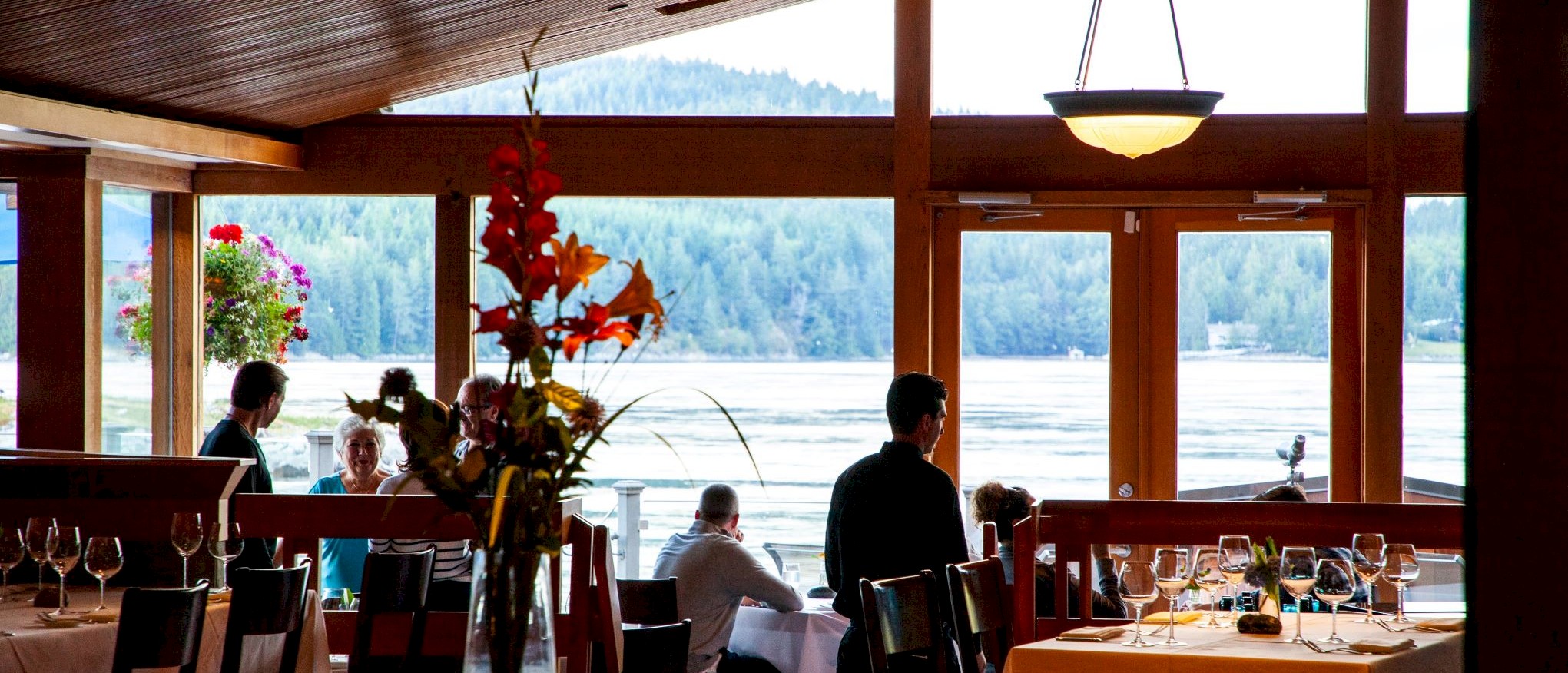 Tyee Dining Room
As a proud member of Relais & Châteaux – an association of the world's finest hoteliers, chefs and restauranteurs – Sonora's shared vision is to make a better world through cuisine and hospitality. Our passionate team of dining and culinary experts are key to making this vision a reality. 
As a member of the fine Dining Team, you work alongside some of the most talented professionals in the hospitality industry and have the opportunity to learn and advance both at Sonora and within the industry. Many Fine Dining Servers, who began in entry level positions have become Sommeliers, Wine Consultants and work in upper management positions in hospitality.
You also work closely with the culinary team, some of which have gone on to win Top Chef Canada (Matthew Stowe), win Bronze at Gold Medal Plates + own their own delicious restaurant (ilpostoresto.com, Terry Pichor), be featured on Global News segments (Lukas Gurtner), launch their own delicious bakery (LIVIA, liviasweets.com Claire Livia Lassam), become Executive Chefs at other Relais & Châteaux properties (Carmen Ingham at the Wickaninnish Inn) and Executive Pastry Chefs at leading food and beverage establishments (Dominic Fortin, Fairmont in Whistler). Most of these chefs began working for Sonora Resort in mid or entry level roles.
To find out more, read about our Culinary Philosophy and Dining Experience. 
---
Supporting Text
Fine Dining Server 
The Dining Room Server will have a passion for excellence in guest service and a strong background in fine dining. They will be expected to function within a team environment and provide a world class fine dining experience for our guests.
Skills & Characteristics:
Exemplary customer service skills and a demonstrated willingness to exceed guest expectations.
Sales minded with a professional, outgoing and persuasive demeanor.
Ability to work cohesively with fellow colleagues as part of a team or independently with minimum supervision.
Ability to build and maintain strong relationships at all levels of the organization. .
Effective decision making and problem-solving capabilities demonstrating sound judgement.
Trustworthy with sensitive or confidential company information.
Adapts easily to change; works quickly and accurately under pressure, tight deadlines and multiple priorities.
Strong analytical, strategic and creative problem-solving skills.
Excellent interpersonal and communication skills, both written and verbal.
Strong organization skills with keen attention to detail.
Proficiency in POS system.
Education & Experience:
One (1) year of experience in fine dining service; experience in a live-in resort environment is preferred.
High School Diploma required; any additional education or experience in Food and Beverage, Hospitality, Tourism or related fields would be an asset.
Experience working with POS system.
Beginner WSET qualifications are an asset.
Must be fluent in English, second language an asset.
First Aid & AED certificates are an asset.
Must have a valid serving it right number
Duties, Responsibilities & Tasks:
Daily Operations
Greet and seat guests at the direction of the supervisor or dining room manager.
Focused memorization of daily specials, menu changes, wine lists, wine pairings and key guest notes
Explain ingredients, preparation techniques and available substitutions to guests.
Assist guest in food and beverage selection, enter items in POS system.
Keen awareness of guest allergies and or dietary restrictions
Ensure guests dietary requests are detailed and communicated to other servers, managers and kitchen
Circulate amongst guests during service and top up waters or clear plates.
Act as food runner for expeditor during peak dining times.
Ability to read bills and run items to appropriate seat numbers.
Run drinks to guests from the bar.
Follow company procedure to bill for or collect payment for chargeable items.
Operate espresso machine for specialty coffee beverages (cappuccino, latte, etc.).
Ensure tables are set properly for respective dining times.
Ensure front of house and back of house cleanliness is kept to the highest of standards.
Execute side duties and checklists in between service including organizing storage areas, cleaning common areas including piano, aquarium, windows, polishing cutlery and glassware, etc.
Keep all water, house wine, menus, cutlery and other mise-en-place stocked throughout each service.
Assist Bartender in room stocking and stocking liquor orders.
Assist with special event and offsite requirements related to food and beverage including set ups and tear downs as directed by the Lead Server.
Assist with timely delivery of food and beverage related room amenities as required.
Ensure effective working relationships and clear communication is maintained with all colleagues and departments.
Ensure that all equipment, fixtures, and furniture of the department are kept in the best repair possible and are used in a safe and proper manner.
Drive small electric vehicles around the resort as required.
Company and Department Responsibilities
Recognize that Sonora Resort is a service-oriented organization and act accordingly.
Ensure good communication daily with the department manager on all issues, particularly those affecting customer services, employee relations and the economical operation of the department.
Reflect sound employee relations and a positive attitude towards Sonora Resort & London Drugs.
Understand and adhere to all guidelines as set out in company policies.
Maintain a professionally groomed appearance that reflects positively on the company.
Perform any other reasonable duty or assignment requested by the department or General Manager.
Health & Safety:
Be aware of and promote safety standards to ensure both employee and guest health and safety.

Create and maintain a safe, fair, and harassment free environment for all employees and guests.

Understand and adhere to all emergency procedures including evacuation and fire drills.
Physical Demands:
Physically demanding tasks in a fast-paced environment with tight deadlines.

Repetitive tasks, handling heavy loads, combination of standing, walking, or sitting for extended periods of time, bending, crouching, kneeling.
Working Conditions:
Must possess valid work authorization to work in Canada. Sonora Resort is unable to assist with obtaining work authorization.
Sonora Resort is committed to maintaining a safe and healthy workplace for its employees and customers.  To achieve that goal, Sonora Resort has implemented a mandatory COVID-19 vaccination policy for all employees.  Your employment with Sonora Resort is conditional on you providing Sonora Resort with proof, prior to an offer of employment, and in a form reasonably satisfactory to Sonora Resort, that you have been fully vaccinated against COVID-19.  If you do not provide such proof, an offer of employment will not be forthcoming.   If you are unable to be vaccinated on the basis of a ground protected by applicable law, you may request an accommodation from Sonora Resort by contacting your hiring manager immediately to engage the Human Resources Department immediately.  Sonora Resort reserves the right to request additional information and documents from you and to delay offering you employment while it considers your accommodation request.  Sonora Resort reserves the right to amend its mandatory COVID-19 vaccination policy in its sole discretion.
Contract length: 4-5 months
Expected start date: End of June 2022 / Early July
---