Lead Image

1 January 2020

Montreal en Lumiere
Montreal En Lumiere
The west coast meets east coast at the 21st annual Montréal en Lumière as Sonora Resort's Lukas Gurtner joins forces with Restaurant Miel's Hakim Chajar for two nights of culinary discovery. On February 28 and 29, 2020, guests are invited to enjoy a multi-coursed meal influenced by the season of citrus and West Coast seafood.
 Lukas Gurtner working with Hakim Chajar in Montreal.
"Montréal en Lumière is such a prestigious event in Canada, and I'm pleased we are able to participate for the first time this year," says Gurtner, who was recently named culinary and beverage director of Sonora Resort. "I worked with chef Hakim when he was chef de cuisine at Laurie Raphaël and back then, he collaborated with a visiting chef during this same festival. It was incredible, rewarding, and an unforgettable experience. Our new executive chef Justine Smith and I hope to bring that same energy to Restaurant Miel."
 
Chef Hakim won the 2010 Les Grands chefs Relais and Châteaux scholarship, which allowed him to perfect his art in several Three Michelin Star restaurants in California and Europe. In 2012 he was a finalist in the series Les Chefs, then in 2014, he was crowned winner of the edition Les Chefs-la avenge. In the summer of 2017, Chef Hakim opened Miel.
Supporting Image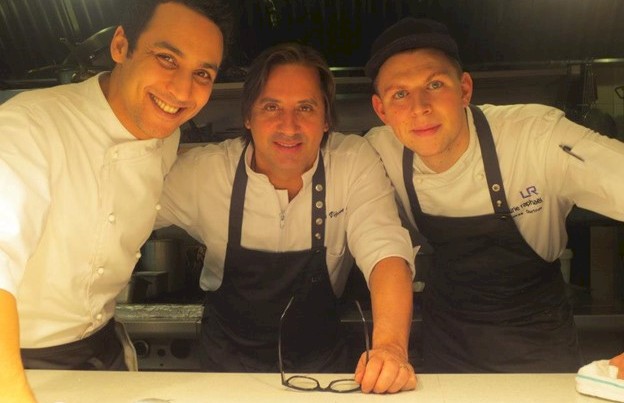 Supporting Text
West Meets East Menu

Amuse Bouche
1st
Champagne and West Coast Oysters
Black pearl oysters, aerated champagne, variations of Meyer lemon
2nd
Off-shore Vancouver Island Albacore Tuna
Blood orange, fennel, fur kaki puffed rice, crème fraiche, espelette
3rd
Gruyere and Roasted Cauliflower Tortellini
Caramelized onion consommé, charred onions, smoked egg yolk, scallions
4th
Grilled Lamb Neck
Textures of Jerusalem artichoke, cured heart, black garlic, natural jus
5th
Ice Cider and Citrus
Preparations of buddha hand, mascarpone & vanilla, finger lime, almond granola
Restaurant Miel is located at 2194 Centre Street, Montréal. Tickets are $85++ per person and available via the Montréal en Lumière website or by calling Restaurant Miel at 438-381-3838. Optional wine pairings are also available.
For more information about Montréal en Lumière, please visit www.montrealenlumiere.com.
 
See all news